Investment Banking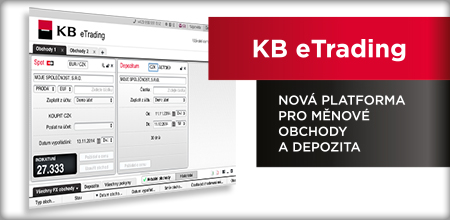 Latest comment from financial markets
CZGB Auction Preview: Third reopening of the euro-denominated bond
Tomorrow, the MinFin plans to issue a two-year euro-denominated zero-bond in a total maximum volume of EUR200m under Czech law via the primary-market dealers (not a eurobond in the classical sense). This is a new way to secure FX liquidity for the government's borrowing needs introduced this year. The MinFin thus covers its FX exposure resulting from the maturity of eurobonds last year.
Autor:
František Táborský
Show more
Latest comment from the equity market
Equity Outlook: Global uncertainties continue to stoke fears
The first months of the year were positively influenced by global equity markets' recovery after selloffs at the end of 2018: In December 2018, equity markets suffered from severe selloffs, which decreased the price basis and allowed for a decent rebound. This was supported by the wait for conclusion of a trade agreement between the United States and China.
Outlook for the second half of the year is not rosy: With low visibility of the outcome of the trade war and Brexit, and a recession expected in the US in mid-2020, Société Générale further reduced the risk profile of its global asset allocation portfolio. We see a downside potential to global equity indices.
Autor:
Jiří Kostka,Miroslav Frayer
Show more