Investment Banking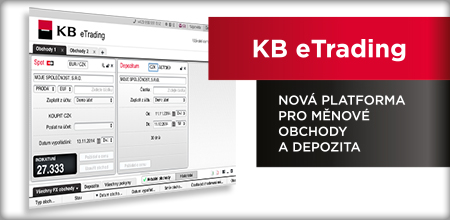 Latest comment from financial markets
Comments on macroeconomic indicators: Czech economic deceleration confirmed
According to the advanced estimate, the Czech economy added 0.3% qoq and 2.5% yoy in the third quarter. That means a deceleration from 0.7% qoq and 2.8% in the second quarter. The quarterly dynamics decelerated to less than half of growth in 2Q. Such a result was slighlty below our estimate as well as below the market forecast (in both cases 0.4% qoq and 2.6% yoy).
Autor:
Michal Brožka
Show more
Latest comment from the equity market
Comment on financial results: CEZ (Buy, 12m target = CZK717) - We still expect full-year guidance to be met
CEZ reported its 3Q19 results this morning, which are at first glance are below market estimates. However, we believe the reported figures presented by CEZ cannot easily be compared with the market estimates. The reason is the change in the accounting for derivatives, which affected all quarters this year, not only 3Q itself. For this reason, we would rather consider the results achieved in the whole 9M of this year as the numbers better reflect the current situation. The results were positively impacted by the higher price of electricity. On the other hand, lower production at nuclear and coal-fired power plants was negative. CEZ adjusted its annual targets by lowering the upper end of the original spread.
Autor:
Bohumil Trampota
Show more